Navigation
Staff/Contact
[Profiles]
Featured Sponser
RETRIEVING CONTENT...PLEASE WAIT
Unusual Celtics Records


Saturday, May 12, 2007
by FLCeltsFan 9:27 PM

If you get a chance, you should check out The Unofficial Guide to Basketball's Nastiest and Most Unusual Records (Unofficial Guide)by Kerry Banks. I highly recommend it for a fun offseason read. You will find every kind of unusual record in this book. Here are a few of the Celtics related records to whet your appetite for this fun book.


First NBA player to break a backboard
Chuck Connors, Boston, Nov. 5, 1946
Connors, who would later go on to much greater fame as the star of TV's "The Rifleman," broke the backboard at Boston Arena before the Celtics' maiden home opener against the Chicago Stags. Contrary to popular belief, he did not do it with a dunk.
"During the warm-ups, I took a harmless 15- to 20-foot set shot, and, crash, the glass backboard shattered," Connors recalled in a 1986 interview. The backboard crumbled because a worker had not installed a piece of protective rubber between it and the rim. The game was delayed an hour while a truck picked up a spare backboard from Boston Garden, where a rodeo was taking place in front of a packed house.
In 53 career games with the Celtics, Connors averaged 4.5 points per game. After leaving basketball, he tried his hand at baseball, playing briefly for the Brooklyn Dodgers and Chicago Cubs, before finding his niche in Hollywood.


Most stab wounds suffered by a player
11: Paul Pierce, Boston, Sept. 25, 2000
Pierce was definitely in the wrong place at the wrong time. But he was also more than a little lucky.
Minutes after entering a Boston dance club in the early morning hours of Sept. 25, 2000, the 22-year-old Celtics player was ambushed after he stopped to chat with a gang member's sister. Jumped from behind by three men, he was sucker punched, had a bottle broken over his right eye, and had a knife plunged through the back of his leather jacket six inches into his body.
Pierce also received 10 other stab wounds in the neck and chest, the worst of which penetrated his abdomen and diaphragm and punctured his lung, coming within an inch of his heart. Friends rushed him to hospital where he underwent emergency surgery to repair the damage. Amazingly, Pierce was back on the court in less than a month and went on to have a stellar season, leading the Celtics in scoring.


Highest draft pick to die of a drug overdose
Len Bias, No. 2 overall, June 19, 1986
Bias was considered a can't-miss star. Not only was the 22-year-old a terrific talent, he also had a sterling reputation. As his college coach Lefty Driesell stated, "Leonard's only vice is ice cream." Unfortunately, the Maryland Terrapins forward never got a chance to strut his stuff in the pros.
Less than 48 hours after being selected second overall by the Boston Celtics, Bias collapsed in his dorm and died of a cardiac arrest. Doctors found cocaine in Bias's system and concluded that he died of a cocaine-induced seizure.
A subsequent investigation into his death led to charges being laid against three other people who admitted using the drug with Bias on the day of his death. The fallout eventually resulted in Driesell's resignation.


First player suspended for biting another player
Wayne "Tree" Rollins, Atlanta, April 24, 1983
Boston was leading the deciding game of its 1983 playoff series with Atlanta when Tree Rollins elbowed Danny Ainge. The feisty Celtics guard responded by tackling the 7-foot-1 Hawks center.
As the two struggled on the floor, Rollins sank his teeth into one of Ainge's fingers, opening a gash that required five stitches. The NBA handed Rollins a five-game suspension, one game for each stitch. The next day's headline in Boston read: "Tree Bites Man."


Most pregame vomiting episodes, career
1,128: Bill Russell, 1956-57 to 1968-69
The Boston Celtics great would get so psyched -- and nauseated -- before virtually every game that he would have to puke. It didn't hurt his play though. In fact, if Russell didn't vomit before a game, his teammates knew they were in for a long night.
Once, before a Game 7 playoff clash against Philadelphia in the 1960s, Celtics coach Red Auerbach actually pulled his team off the court during warm-ups because Russell hadn't performed his usual pregame ritual. Auerbach told the players they weren't going back out until Russell tossed his cookies. Russell came through and Boston went on to victory.


Most Grateful Dead concerts attended by a Hall of Famer
More than 650: Bill Walton
Walton is a die-hard Deadhead. "They've been my life since I first saw them in the late sixties, when I was in high school," he admitted in one interview. "I attended lots of rock concerts when I was in high school and college, but after my first Dead show I realized that I had found a home."
Walton numbers the Dead among the great teachers in his life and believes that lessons learned from the band served him well in the pursuit of his goals as a basketball player: "Their inspiration drove me. They taught me the importance of delivering peak performances on demand, and to always play with a sense of joy and creativity."


Most derogatory nicknames handed out by a broadcaster
Dozens: Johnny Most
The voice of the Boston Celtics for 37 years, Most was a self proclaimed homer, someone who, as one referee stated, could cause a riot at a High Mass with his emotional, pro-Celtic descriptions. Most turned shoving matches into "bloodbaths" and minor fouls into "vicious muggings." Once, during a game in Detroit against the Pistons, he loudly declared, "Oh, the yellow, gutless way they do things here." Most frequently bestowed unflattering nicknames on Boston opponents. Kareem Abdul Jabar was "Kareem Puff." Dennis Rodman was "the Supreme Hot Dog." Isaiah Thomas was "Little Lord Fauntleroy." Washington's physical duo of Juff Ruland and Rick Mahorn were "McFilthy and McNasty." As Boston's director of basketball operations Danny Ainge observed, "I always believed we had thirteen guys on the active roster - twelve in uniforms and the thirteenth - Johnny Most- was high above courtside."


First player to have his number retired twice by the same team.
Bill Russell, Boston Celtics
Russell was a complicated and prickly character: he didn't sign autographs and was uneasy with public adulation. The Celtics has intended to retire Russell's No. 6 in a pre game ceremony, but when Russell refused to participate, the team raised his number to the rafters in a private ceremony at Boston Garden on March 12, 1972. Twenty seven years later, on May 26, 1999, a more mellow Russell allowed his No. 6 to be re-raised to the top of Boston's FleetCenter in a special tribute hosted by comedian Bill Cosby. An estimated 12,000 fans attended.


First Player to refuse to have his number retired
Jim Loscutoff, No 18, Boston Celtics
A hard nosed forward who won five titles with the Celtics from 1956 to 1964, Loscutoff declined to have his jersey number retired so that a future Celtic player could wear it. Instead, a LOSCY banner was hung in Boston in his honor. The jersey number was in fact later used and then retired in honor of another Boston star: Dave Cowens.


Only team to draft a paralyzed player
Boston Celtics, June 29, 1982.
Indiana's Landon Turner was paralyzed in a car accident just prior to the 1982 draft, a few months after his team won the NCAA title. As a favor to Indiana coach Bobby Knight (who started a fund that raised 400,000 to defray Turner's medical expenses), and to lift Turner's spirits, Celtics GM Red Auerbach drafted him in the 10th round. In 1989, Turner received the Coors Light US Basketball Writers Association's Most Courageous Award after returning to the court with a wheelchair basketball team. Today he is a motivational speaker in Indianapolis.


Only NBA teams to trade Owners
Boston Celtics and San Diego Clippers 1978
Faced with declining attendance, Buffalo Braves owner John Y. Brown went looking for a new city for the Braves franchise at the 1977 owners' meeting. The Boston Celtics were owned by Irv Levin, a Beverly Hills resident who wanted to own a club that played closer to his home state. NBA attorney David Stern (who is now the league's commissioner) proposed a novel solution: the Buffalo Braves would move to San Diego, and Brown and Levin would flip franchises. In June 1978, NBA owners voted 21-1 in favor of the swap. The deal included a complicated seven player trade but the most important detail in the transaction was that Boston retained the draft rights to Larry Bird.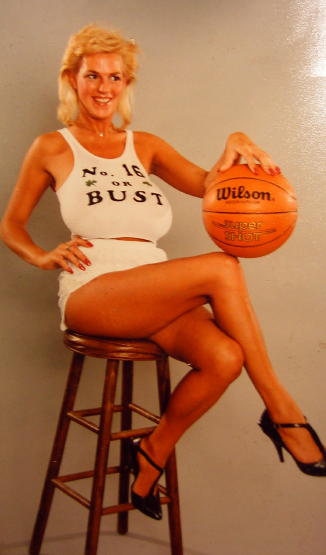 Largest Chest on an unofficial mascot
88 inches: Busty Heart, Boston Celtics.
Stripper Busty Heart and her massive 88 inch bazooms bounced into the public eye during Game 1 of the Celtics 1986 playoff series with the Atlanta Hawks. The tall blonde caused a major commotion at Boston Garden when she began dancing in a tight halter top right next to a CBS TV camera. The uproar prompted Celtics radio announcer Johnny Most to explain to his listeners: "There is a blonde with very large assets dancing in the stands. She looks like Morganna but much larger." The voluptuous heart became Boston's unofficial mascot, and from her seat near the Hawks' bench she created such a visual distraction that Atlanta coach Mike Fratello later claimed she cost his team at least one win in the series, which the Celtics took in five games
source:The Unofficial Guide to Basketball's Nastiest and Most Unusual Records
[Discuss this topic on the Celtics Green Forums!]

Leave a comment

Fiddlin' and Diddlin' on 5/12
Celtics Pride


Friday, May 11, 2007
Fiddlin' and Diddlin' on 5/11
Chemistry 101
Leon Powe's Contract
Doc's Contract Extended


Thursday, May 10, 2007
Draft News Update
If the Lottery Was Fixed
Fiddlin' and Diddlin' on 5/10
The Second Most Ping Pong Balls
John "Mellow"camp, Larry "Free" Bird & Kevin Mc"in"Hale.
Grab Your Shamrocks!
Fiddlin' and Diddlin' on 5/9


Wednesday, May 9, 2007
Lottery Luck
Here Comes The Boom!


Tuesday, May 8, 2007
Rondo Makes All Rookie Second Team
Fiddlin' and Diddlin' on 5/8
Beginning of a New Era


Monday, May 7, 2007
Fiddlin' and Diddlin' on 5/7
Patience is a Virtue


Sunday, May 6, 2007
Featured Sponser
SIGNSONTHECHEAP.COM
Sports blogs